Empowering Women in Engineering
Women have historically been underrepresented in engineering fields, but student organizations in the College of Engineering are reversing that trend. These student-run clubs provide a community and platform for Aggie Engineers of all gender identities to empower each other on their academic journeys. Read more about these organizations to learn about their missions.
Club of Future Female Electrical Engineers
The Club of Future Female Electrical Engineers, or COFFEE, was founded in 2018 by women in the electrical and computer engineering department to meet the gap in support for the transition between lower and upper division courses. Classmates supported each other unofficially but found that there was a need for something more official. Among the ways COFFEE supports women in the department is a mentorship program that connects undergraduates, graduate students or faculty members with other students so that mentors can support mentees.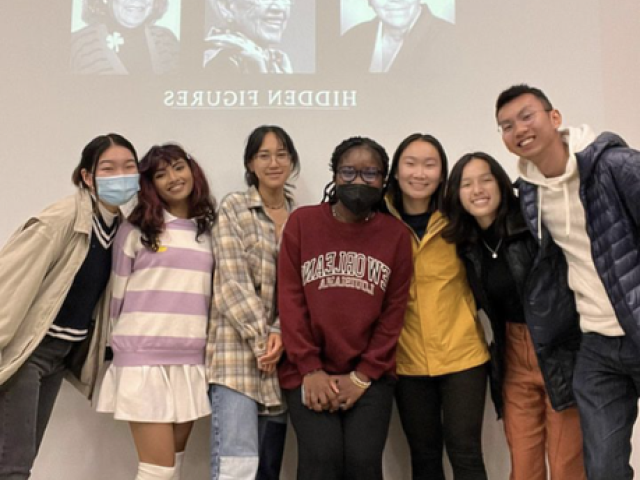 Female Association of Civil Engineers
FACE exists to support women and non-binary students pursuing degrees in civil and environmental engineering as an arm of the UC Davis chapter of the American Society of Civil Engineers. In addition to social events, guest speakers and professional workshops, FACE provides networking opportunities, professional development and community for women pursuing civil and environmental engineering degrees.
Society of Women Engineers
For more than seven decades, the Society of Women Engineers, or SWE, has empowered women to achieve their full potential throughout their engineering journeys. SWE provides opportunities for scholarships, numerous events, and partners with industry leaders in its goal to bring gender parity and equality to engineering and technology fields. SWE's student executive board features representatives from six different College of Engineering departments.
Women in Computer Science
Women in Computer Science, or WiCS, has a mission to create a platform for women in tech to share ideas about personal projects, promote interest in programming, and attend hackathons. Through this platform, the club aims to prepare women for the tech industry as well as inspire women to explore educational and professional opportunities in computing through mentorship and community. The club has a weekly newsletter and a Discord channel, among numerous options to connect, and a guide for new students in computer science at UC Davis.
Women Machinists Club
The Women Machinists Club began in the spring of 2020 and has been providing a community for its peers ever since. The club's leadership is divided into five categories: Education, Publicity, Outreach, Finance and Historian. Its website features a robust section of resources and tutorials to assist members outside of class.
---
Consider supporting the future of women in engineering and our diverse student groups with a gift to one of our Diversity, Equity and Inclusion Funds!
Primary Category
Tags