Lighting up cancer and heart disease
From invention to care, UC Davis experts aim to stop top killers
Much like a fresh set of eyes, a small pen-shaped device is showing surgeons a more accurate way to treat cancer and heart disease. The device uses new technology developed at UC Davis to scan and illuminate unhealthy tissue in real time so it can be removed.
For use during surgery, the technology is called Fluorescence Lifetime Imaging (FLIm). Surgeons use the device to scan tissue, which will alter the fluorescence if metabolic abnormalities or cancerous cells are present. This is because tumor cells have different optical properties than healthy cells.
Laura Marcu, professor in the College of Engineering's Department of Biomedical Engineering, and colleagues in her lab have been developing optical imaging technology like FLIm for more than 20 years.
"My work is primarily to help guide and inform surgeons to more precisely and thoroughly remove tumors," said Marcu.
First developed in an engineering lab, the technology is one of the most advanced clinical fluorescence lifetime imaging systems in the world. It's currently being used on patients at UC Davis Health—with great accuracy and success—to collect data and prove its commercial value for widespread use.
The lab expects commercialization of the device may be possible in the next few years. It could offer an affordable diagnostic tool option for most hospitals, at an estimated maximum of $100,000 per device, while MRI, CT and PET scanners can cost millions.
Andrew Birkeland, assistant professor of otolaryngology at the UC Davis School of Medicine specializing in head and neck cancer, said he uses the FLIm device to test and investigate where cancer ends and normal tissue begins, as it has the potential to offer a clearer view before surgery.
"Working with Dr. Marcu is a testament to what translational science is," Birkeland said. "By combining her expertise and ours from the clinical side, we've created something really novel that can have tremendous potential impact for patient care. That's the goal of all translational science and we're doing that at UC Davis."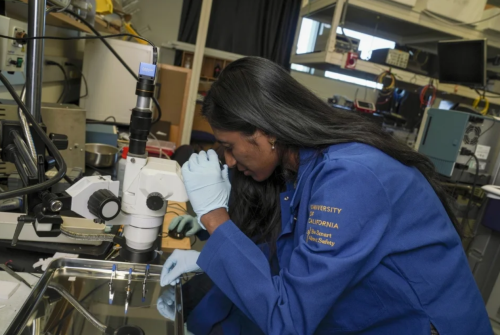 Glowing results for robotic cancer surgery
Although head and neck cancer is one of the most common cancers in the world, five-year survival rates remain around 50 percent for advanced cases. At UC Davis, FLIm technology is being used in patient trials in the hopes of improving those odds with guided surgery.
"Currently, my eyes and hands are the only things I use to get all of the cancer out; however, the FLIm device does a great job at differentiating between cancer and non-cancer cells," said Birkeland. 
In 2021, Marcu received a $3.2 million grant from the National Institutes of Health (NIH) to continue her groundbreaking research on the application of FLIm. Working with surgeons in the UC Davis Department of Otolaryngology and in collaboration with Intuitive Surgical Inc., her team has added FLIm technology to the da Vinci robotic surgical system to better identify cancerous tissue during trans-oral-robotic-surgery.
"We often use Dr. Marcu's tool during robotic surgery in the mouth, which has the potential to identify cancer tissue in hard-to-access areas deep in the back of the throat," Birkeland said.
Birkeland can attest that Marcu's technology is truly unprecedented—and with the right funding, it can be used across institutions and become a standard of cancer care.
Philanthropy that makes the difference
While much of the research underway is supported by grants, additional philanthropic support can greatly expedite research trials. Successful studies conducted by UC Davis Health enhance patient care. In fact, thanks to the excellent care they have received, more than 3,700 grateful patients have given back to UC Davis Health in the last year.
Both Marcu and Birkeland also recognize the importance of philanthropy and give as employee donors themselves. Jeff Southard '95, interventional cardiologist and clinical professor at the School of Medicine, is another employee donor who collaborates with Marcu's lab to apply her cardiovascular research in his work.
"Donor support will not only aid the basic science research that we do, but it will result in the direct translation of that science into clinical practice," said Southard. "We always need more support staff who will allow us to do groundbreaking research more quickly and effectively."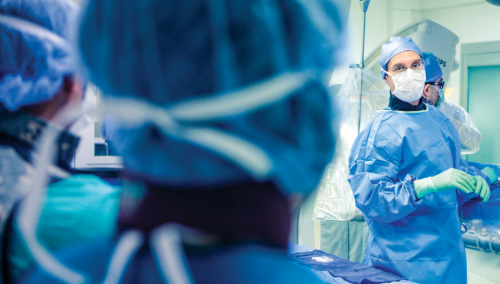 Picture fewer heart attacks
When it comes to prevention and care for cardiovascular disease and stroke, FLIm can be used to identify signs of damage to blood vessels, such as plaque buildup in coronary arteries.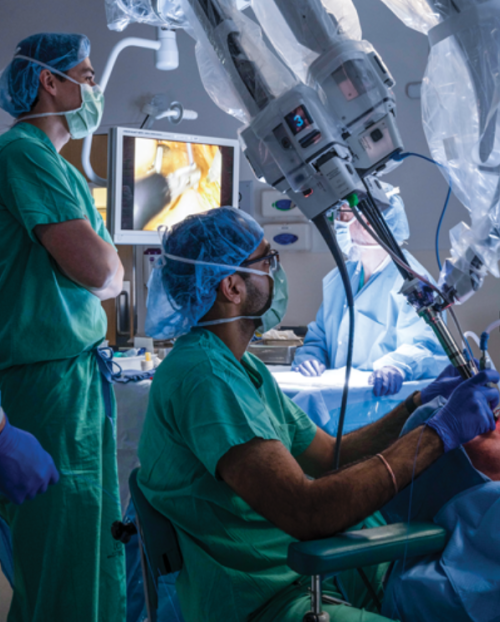 "We can integrate this technique into intravascular catheters to look at the composition of the blood vessels and atherosclerotic plaques that are likely to lead to critical events like a heart attack," Marcu said.
Julien Bec, engineering and operations director in the Marcu Lab, has been leading activities related to catheter development for cardiovascular use.
The researchers hope that in the near future, this translational research will be directly benefiting patients.
"We're working on the application of fluorescence lifetime imaging combined with a technology that uses near-infrared light, to give us an image 10 times the resolution of the tissue compared to what we usually see," Southard said.
Southard stresses that knowing the plaque makeup of coronary arteries down to the cellular level may help inform physicians how to treat patients whose arteries are prone to plaque rupture.
"So far we've tested imaging catheters on donated human hearts. These hearts have cholesterol or plaque buildup in the arteries and it's been highly reliable in understanding the tissue makeup," Southard said. His ultimate goal is to use the imaging technology in a prospective way to help people before major cardiac events occur.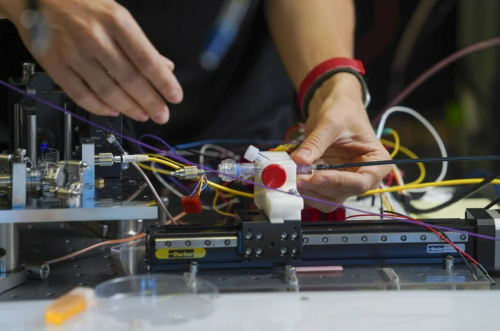 Advancing brain tumor removal
Once a brain tumor is identified, surgeons rely on visual and tactile feedback, such as expensive intraoperative MRIs, to guide its removal. Traditional approaches to fluorescence-guided surgery include administration of drugs like 5-ALA to patients before surgery to illuminate the tumor.
In the Marcu Lab, researchers are using the molecules already present in tissues to highlight cancer.
"Our work is multifaceted and involves extensive engineering to design an instrument that's compatible with surgery," said Alba Alfonso-Garcia, Ph.D. '16, project scientist in the Marcu Lab. "We also research how optical signals from the tissues describe the cancer biology."
Silvia Noble Anbunesan M.S. '20, Ph.D. '24, who works with Alfonso-Garcia, observes brain surgeries at UC Davis Health and collects FLIm data. She compares the FLIm signatures on intact brain tissue with traditional tissue staining images from brain biopsies to help create guidelines for future clinicians to navigate the brain tumor environment."
The goal of our project is to use our FLIm system to identify the tumor boundaries, specifically in glioblastoma, which is one of the worst types of brain cancers," Anbunesan said. "These types of brain tumors do not have a very clear boundary, making them difficult to remove fully."
Both Alfonso-Garcia and Anbunesan collaborate with Orin Bloch, neurosurgical oncologist and professor at UC Davis Health, to apply FLIm technology on patients with brain cancer. In their first in-patient assessment of brain tumor using FLIm in combination with 5-ALA fluorescence-guided surgery, Marcu and her team found that their device allows surgeons to identify the tumor infiltrative margins with increased sensitivity, leading to a more efficient process that is less disruptive to the surgical workflow. Their findings were published in the Journal of Biomedical Optics in February 2022.
"This technology could improve tumor resection outcomes that are directly related to patient survival rates," Alfonso-Garcia said.
The outcome of collaborative care
UC Davis' interdisciplinary approach to reimagining medicine has encouraged the translation of benchtop research into real patient care.
"I receive a lot of support from various people, entities and units in order to make this happen," said Marcu. "Most importantly, the support and collaboration with clinicians who are open to work with us have made FLIm technologies and multimodal imaging systems a reality."
Building on that momentum, Marcu's novel technology was awarded a $6.3 million grant by the NIH in July to establish the National Center for Interventional Biophotonic Technologies (NCIBT), which will advance optical imaging technologies developed at UC Davis and combine them with an artificial intelligence-deep learning platform.
The grant will also support the establishment of a physical center at UC Davis' Aggie Square. This will include state-of-the-art laboratories, teaching spaces, learning centers and the organizational headquarters of the center's training and education programs.
This article was originally featured in the fall 2022 issue of In Greater Focus, the magazine of the Expect Greater campaign published by the Office of Development and Alumni Relations at UC Davis. 
Primary Category
Secondary Categories
Tags