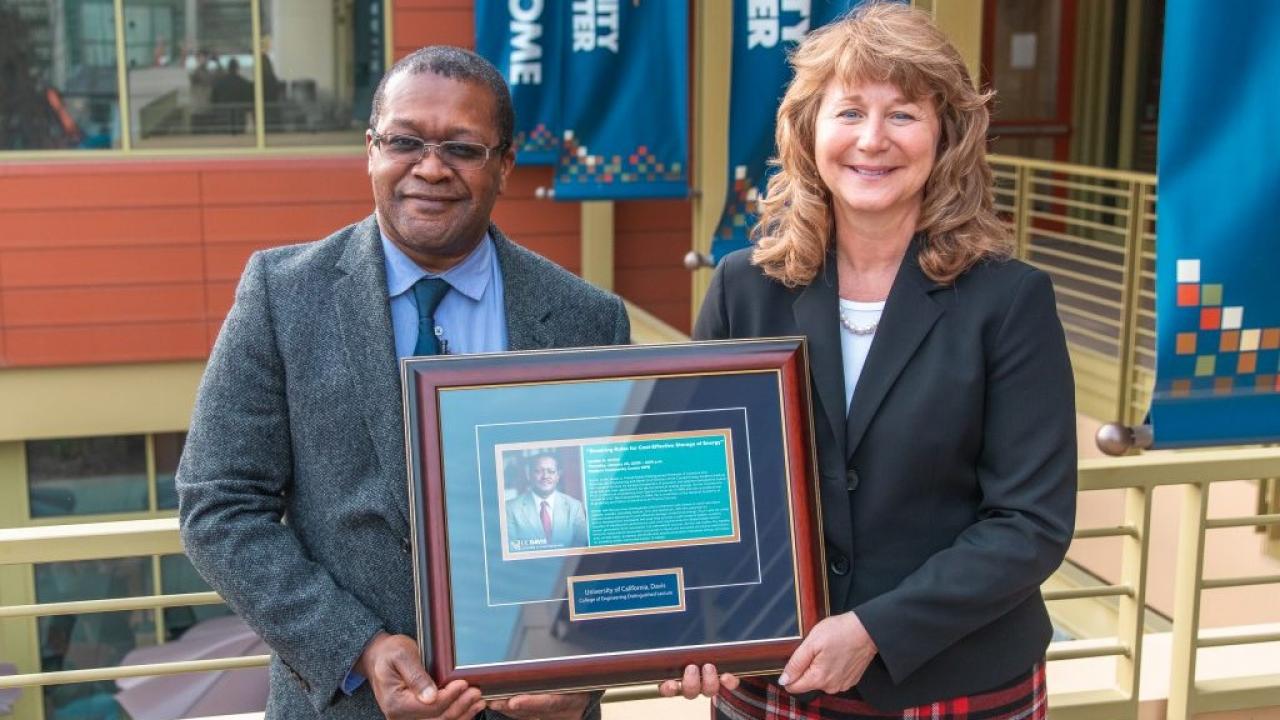 Lynden A. Archer is the James A. Friend Family Distinguished Professor of Chemical and Biomolecular Engineering and David Croll Director of the Cornell Energy Systems Institute.
Archer's lecture, "Breaking Rules for Cost-Effective Storage of Energy," focused on how rechargeable electrochemical cells based on earth-abundant metallic anodes offer the potential for transformative advances in cost-effective storage of electrical energy.
His lecture was delivered in the Student Community Center on January 23, 2020 to a full room of students, staff and faculty.
Archer's research in the past decade has been on transport properties of polymers and polymer-nanoparticle hybrid materials and their applications for electrochemical energy storage. At Cornell, he has embraced "breaking the rules" when it comes to chemical engineering.
"The essence of what I am going to tell you is there are certain truisms about conditions under which batteries that use metal anodes can operate, and we have discovered just by applying the principles of chemical engineering and transport phenomena stability analysis that these rules are not laws," said Archer. "We have actually uncovered example after example of energy-dense chemistries that have exceptional promise for lowering the cost of energy storage."
He explained that one of the main problems with generating energy is the effect it has on our carbon footprint. The cost of solar energy has been decreasing and is now competitive with energy generated from fossil fuels. If the cost is low and technology is accessible, why isn't energy from the sun being utilized to make our society's carbon footprint smaller? Current storage technology is expensive, says Archer. That's why he and his team of researchers have been studying the different types of materials that will create the most cost-effective, safe and efficient batteries.
Many of the technologies we use today that generate energy also generate about 80 percent of the carbon dioxide emissions in our atmosphere through power generation, transportation and manufacturing. 
"The thought is if we can design energy storage technologies that are capable for all three of these things, it would be a major breakthrough for society," said Archer.
Archer and his team want to design better batteries so they can balance intermittency in power-generated technologies. "If we are going to reap the benefits of the aids in manufacturing in industry, we are going to need to find other reliable methods of storing energy and deliver it to power humanity," said Archer.
His team tests different materials with the goal of creating batteries that offer more energy storage capacity than today's state-of-the-art lithium-ion batteries, as well as creating safer batteries since current lithium-ion batteries tend to be flammable. 
"The holy grail is to create batteries with chemistries that preserve costs and get you a long lifecycle," Archer said.
Watch Dr. Archer's lecture here.
See additional photos from Dr. Archer's lecture here. 
Category
Tags