Graduate Student Spotlight: Qingxiaoyang Zhu
Ph.D. Student, Department of Computer Science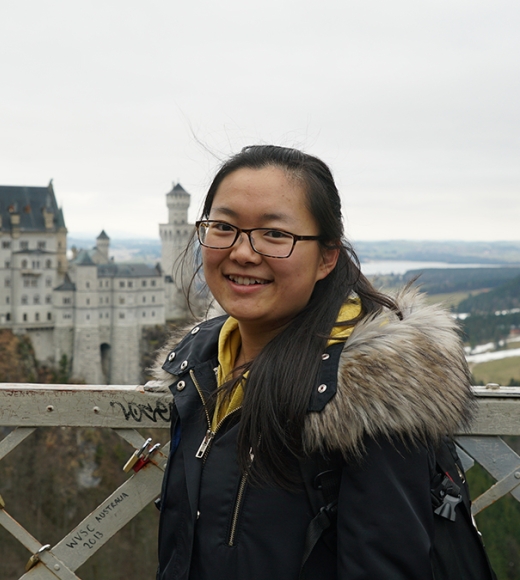 This spotlight is a part of our 2023 International Women's Day Feature.
What inspired you to study engineering? Describe your path to graduate studies at UC Davis. 
Growing up in southwest China, I was fortunate to be inspired at a young age by my grandparents' diligence and passion for research. My family supported my interest in advanced technologies and gave me opportunities to gain practical experience by participating in an interest group focused on programmable robots after middle school. Since then, I have been deeply fascinated by robotics and computer science, thanks to my experience designing and controlling robots to complete complex tasks. Throughout my undergraduate studies in China, I continued participating in robot competitions, which taught me the importance of collaboration and communication. At that time, I was also deeply moved by the unbalanced educational conditions and lack of teachers in a nearby primary school for the children of migrant workers. Therefore, I volunteered as a teacher and introduced to them robotics, providing them with better educational resources. Later, I sought an opportunity to work with people from diverse cultural backgrounds and decided to study abroad in Germany, where I focused on cognitive systems and human-robot interaction. While working on a kitchen robot in the lab, I noticed a communication gap between the robot and the user, which motivated me to develop a language interface for the robot to verbalize its internal states to people. This experience furthered my interest in human-centered AI and led me to continually pursue this research topic at UC Davis. 
Highlight your current research. What do you love about it, why are you excited, and how do you stay motivated? 
The ultimate goal of my research is to increase the equity and accessibility of procedural knowledge for everyone. I'm fascinated by exploring how to create scaffolding tools for common users to consume knowledge by leveraging advanced techniques, such as language and image processing. Currently, I'm working on making online how-to tutorials more actionable and useful by introducing chatbot intervention. I'm researching the effective and efficient practice of Human-AI collaborative knowledge sharing and designing a chatbot system to facilitate common people in sharing and following procedural instructions. I like this topic because we can not only contribute to understanding the practice of online procedural knowledge-sharing, but also have a direct impact on common users and augment their ability to follow instructions presented in procedural knowledge. The broader impact of this research would be to support people in developing their ability for continuous learning. 
The 2023 International Women's Day theme is #EmbraceEquity. How do you embrace equity in the engineering field? 
In the engineering field, I embrace equity through conducting research on Human-AI collaborative knowledge sharing. I am working towards making procedural knowledge more accessible and understandable for everyone by designing and implementing a chatbot system. The system supports users to access How-To tutorials, which describe how to finish a task and follow the instructions to tackle unfamiliar tasks collaboratively. The ultimate goal is to support people in developing their ability for continuous learning, regardless of their background or level of technical knowledge. This approach embraces equity by ensuring that access to knowledge and learning opportunities is not limited to a privileged few but is available to all. 
In addition, I also embrace equity by mentoring high school students in rural areas and encouraging young female students to get in touch with STEM knowledge and helping them to figure out their academic plan. I hope to assist young students in discovering their passion for engineering and science, and ultimately support them in pursuing their career goals. By engaging with and supporting underrepresented communities, I hope to create a more inclusive engineering field where everyone has the opportunity to succeed. 
Primary Category
Tags