Graduate Student Spotlight: Lucy Knowles
Ph.D. Student, Department of Biological and Agricultural Engineering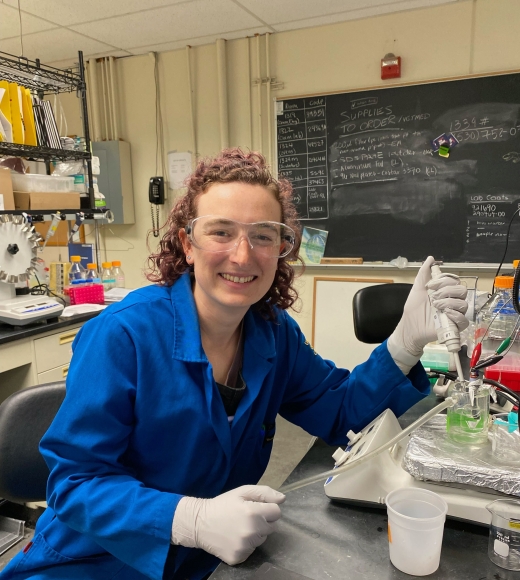 This spotlight is a part of our 2023 International Women's Day Feature.
What inspired you to study engineering? Describe your path to graduate studies at UC Davis. 
In high school, I discovered that I loved physics and I decided to pursue that in college. I had heard engineering was applying physics to solve problems and that really interested me. Once I got to college, I took a seminar on the different engineering disciplines and learned about the research being done in biological systems engineering, and it sounded like exactly what I wanted to do. I loved the idea of using engineering principles to work towards climate change solutions and sustainability. I joined the Jeoh Lab as a junior and started doing research. I really enjoyed the area I was in, and when it was time to graduate I didn't feel done here yet, so I stayed on as a master's student. I intended to go somewhere else for a Ph.D., but I really loved Davis and my lab. So I changed my degree objective to Ph.D. and really dove into this research area and culture. 
Highlight your current research. What do you love about it, why are you excited, and how do you stay motivated? 
My research aims to improve the production of energy from biological waste products, diverting waste from landfills and producing a sustainable form of energy. I use enzymes produced by fungi to break down the main component of plant biomass, cellulose, into fermentable sugars. My main research question aims to answer how these different enzymes and proteins work together and how we can use that knowledge to improve the rates of degradation. I think the idea of a sustainable form of energy is really exciting for the future. It's been really fun to go to conferences and talk to people doing similar or complementary types of research. My lab has a really great culture, so it's easier to stay motivated while working alongside them. 
The 2023 International Women's Day theme is #EmbraceEquity. How do you embrace equity in the engineering field? 
I embrace equity by advocating for my students, using my voice to call out discrimination and fostering inclusive environments whenever possible. I have been volunteering in STEM for Girls for the last six years, which is a program that brings 10-12-year-old students from nearby to UC Davis for an immersive day in STEM. The program's goals are to expose students to STEM fields, build confidence in their abilities and introduce them to tangible and relatable role models. 
Primary Category
Tags