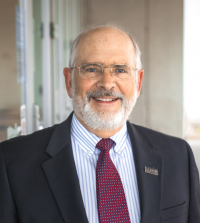 It has been a remarkable year in the College of Engineering. Our faculty and staff have shown their tireless dedication to keeping the college running since we began our reduced on-campus presence more than a year ago. We are optimistic that there is a light at the end of the tunnel of the pandemic, with cases gradually decreasing and more people being vaccinated. The university's goal is to open for largely in-person instruction and regular research activities in fall 2021, in alignment with local, state and national health guidelines. This will involve continuing safety procedures and an optimized mix of working remotely and in-person to prioritize everyone's overall health. 
Amidst this challenging time, our faculty continue to push research frontiers and help our students gain a strong engineering education. We are proud to celebrate our eight faculty members who received NSF CAREER awards this year. This milestone achievement signifies the exceptional talents of our early-career researchers. This year's awards span a wide spectrum of research that embodies our mission of connecting people and technology, from quantum hardware for next-generation communication platforms to high-temperature materials for spacecraft.
In keeping with our dedication to student success and ensuring students receive the support they need, we are pleased to share that Avenue-E became a part of the College of Engineering last fall. Avenue-E is a program designed to help community college transfer students smoothly transition to UC Davis, and ultimately, a career in engineering or computer science. It aims to increase participation of women and underrepresented minorities in science, technology, engineering and math, or STEM, with the goal of creating a new generation of promising STEM talent and leadership. This program was developed by UC Davis and founding corporate partner, Chevron, in collaboration with Los Rios, Peralta, San Joaquin Delta and Contra Costa Community College districts. 
We're also delighted to announce the largest-ever single donation to the College of Engineering by an individual. With her $6.5M gift to name the new Engineering Student Design Center, electrical and computer engineering alumna and information technology executive Diane Bryant will inspire women and other underrepresented students in STEM, fund essential learning for aspiring engineers and solidify her legacy as a leader in technology. The Diane Bryant Engineering Student Design Center —due to open in fall 2022 — will offer hands-on educational experiences and encourage students to envision how they will change the world.
The college dean search is well underway and we hope to announce our next dean this summer. The incoming dean will guide us forward in a post-pandemic environment, while planning for a bright future and ensuring the ongoing success of the College of Engineering. Thank you for being a part of our past and our future.
Go Ags!

Jeffery C. Gibeling
Interim Dean, UC Davis College of Engineering